What is Investment Plans?
It is remarkable to witness the growth of Dubai from a quite port to a bustling metropolis that has emerged as a business hub in the Middle-East. Just fifty years from today Dubai was a small quiet fishing port that served as a gateway between the eastern and western world. Right from the land of sands to the modern-day business hub home to almost reputed corporate house and company Dubai has traveled a long way.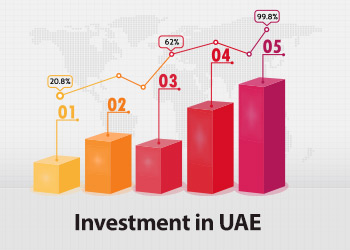 With the growth of Dubai, the investment market also grew exponentially making the city the center for trading and investments. Investors from all across the globe have realized the importance of Dubai and have invested huge amounts of capital in the region which has led to the emergence of industries in the Middle-East.
There are several reasons behind the growing investment market in Dubai, out of which the primary reason is the lenient taxation system that promotes business and commercial activities in the region. It is a well-known fact that Dubai is home to the highest expatriate population in the world. A large number of expatriates migrate from their native countries in search of better job opportunities in the UAE. No matter whether one is an expatriate or an Emirati Dubai has something to offer to every investor.
Types of Investments in Dubai
The Dubai investment market is extremely diverse and filled with a plethora of options for investors willing to invest their surplus capital with the objective of growing it. Here's a quick rundown on the types of investments in Dubai-
1. Index Funds
Index funds are investment funds that hold every stock in a given index which means that instead of attempting to beat the benchmark, these funds aim to mirror the index they track. These funds are one of the best tools when it comes to adding diversification to one's investment portfolio. Moreover, these funds follow the market performance instead of endeavoring to beat it.
2. Real-Estate
One of the most promising forms of investment especially for the Dubai investment market is real-estate. With the development and emergence of businesses in the city the demand for real-estate rose substantially within the past few years. However, there are some downsides associated with real-estate investments such as high initial cost, lack of liquidity, etc.
3. Gold
Dubai is also known as the city of gold due to its iconic gold souks that attract millions of tourists and gold enthusiasts from all across the globe. The precious yellow metal is not just limited to ornamental value but it is considered as a major form of investment for a lot of people in the eastern part of the world. Gold has unique abilities that provide a hedge against inflation. Furthermore, its high liquidity makes it one of the best investment tool for all classes of society.
Investments in gold can be made in the form of certificates, coins, bars, ETFs, and funds. Global equity valuations are usually high which is what makes gold a safe asset in case other assets are going down in value.
4. Mutual Funds
One of the most popular and reliable forms of medium-term investments not just in the UAE but all across the globe are mutual funds that are created by pooled capital collected from several investors with the objective of growing their savings. Mutual funds are managed by professional fund managers that specialize in investment banking. The pooled capital is invested in different market-based securities that yield returns are provided in the form of dividends to the investors.
5. Stocks
The stock market is one of the most lucrative investment options for investors all across the globe. It refers to the collection of exchanges and markets where buying, selling and trading of shares of publicly-held organizations and firms takes place. The terms stock market and stock exchange are often used interchangeably.
6. SIP
A systematic investment plan commonly known as SIP is a type of investment vehicle where investors make regular contributions that are invested in different market-based securities to yield returns. One of the primary benefits of investing in SIP is that investors can save regularly even with small amounts of capital.
7. Bonds
National bonds are an ideal investment option due to the liquidity, safety, and the slightly better rate of return that they offer. It is easy to invest in national bonds. In most cases, the holding period for national bonds is 3 months after which they can be redeemed.
Investment Tips for Beginners
1. Small term investments
Small term investments carried out with the aim of fulfilling short-term goals. The savings in this approach should be extremely liquid investments. The main purpose served by this approach should be avoiding borrowing and panic during any financial emergency. The main purpose should be liquidity and not earning high returns. Investing in extremely liquid funds offers extremely low returns. People who do not have sufficient savings in bucket number 1 end up borrowing via loans or credit cards.
In order to make sure that willing investors choose the right investment vehicle we have come up with the list of some of the best small investments in Dubai, they are as follows-
Bonds
Fixed Deposits
Savings Bank account
Mutual Funds
Stocks
SIP
2. Diversification of Investment Portfolio
One of the important strategies that help investors to portfolio against various risks is by adding diversification. Portfolio diversification refers to the process of opting for various types of securities and investments that are inversely related to each other. When an investor invests in different securities that are not directly related to each there is safety and the degree of risk associated is considerably low.
Investors should always diversify their investment to make sure that their portfolio is safe against the strokes of uncertainties. According to financial experts' diversification is a great strategy for investors looking forward to reducing the degree of risk associated with their investment portfolio. Typically, the process of diversification includes investing in different market-based instruments that reduce the risk.
How to Choose Best Investment in Dubai
The following steps will help you to choose the best investments in Dubai:
Assess your long- and short-term goals along with the time horizon and appetite for handling risks.
Research and look for investment tools that match your risk handling capacity and fulfill your goals.
Compare different investment vehicles on the basis of different factors like investment cost, time horizon, degree of risk, returns, etc.
Try and avoid investment vehicles that have high returns along with a high degree of risks as there is a probability that the investor might end up losing their capital.
Seek advice from a financial expert and then finalize your decision.
Why Invest in Dubai
As mentioned earlier Dubai has emerged as the business capital of UAE that is home to almost every leading company in the world. With the development of businesses and industries in Dubai, there has been an exponential rise in the investment sectors that have managed to attract a large number of investors in the UAE. Another major reason that makes Dubai an absolute paradise for investors is its taxation system. Dubai is a tax-free zone with no tax on capital gains and income therefore investing in Dubai turns out to be quite beneficial in comparison to other regions in the middle-east.
Apart from being crowned as the city of gold Dubai is well known for its luxury lifestyle, shopping malls, low crime rates, nightlife making it the perfect place to spend life with one's family. Moreover, the political situation in Dubai is quite stable which ensures that your investment will not be impacted due to geopolitical instability and disturbances. The location of Dubai makes it the bridge between eastern and western parts of the world.
Features and Benefits of Investment Plans in UAE
There are numerous benefits of investing, some of them are:
1. Hedge Against Inflation
An individual due to inflation may end up losing money over time, which makes it important to invest funds and grow them. The rate of return earned on the funds helps in hedging against inflation since the value of funds increases.
2. Builds Wealth
Investing is the key to building wealth. There are numerous ways to invest in the market. However, one should create a proper investment plan that meets the objectives and needs.
3. Smooth Retirement
A smooth retirement with sufficient funds can be attained by making one's money grow. The higher the amount of investment, the higher is the compound interest.
4. Meeting Financial Goals
One can even choose to invest in order to achieve a financial goal such as purchasing a car, financing a dream holiday, saving for a child's further education, etc. The earlier one invests the money, the faster one achieves financial goals.